Wayne and I took our first barge and quad overnight camping trip of the season to the Head of Powell Lake. We wanted to catch the waterfalls during spring runoff. Because of our early spring they weren't running full bore, but they were still spectacular.
We left from our cabin home at Hole in the Wall just past First Narrows. Thanks to
Harry Zroback
, Powell Lake float cabins were just featured in
Cottage Life magazine's May issue
.
Calm water reflected snowy peaks of the Coast Range past Second Narrows. There's pointy Beartooth on the right. Have you ever eaten Beartooth Pie at the
Shinglemill Pub
? It was invented by
Max Pagani
, a local realtor and Powell Lake neighbour of ours.
We stopped at several waterfalls to try our luck at fishing. None here, but it's one of many beautiful spots.
We arrived late on Friday after the crews were gone. Before going, we stopped at the
Western Forest Products
office in Powell River to check on weekend logging activity. Knowing there would be no log trucks hauling, we offloaded our quads and set up camp on the empty barge.
The next morning we rode up Daniels Main to see the spectacular waterfalls fanning out over the granite cliffs. Active logging roads are well maintained. Older ones narrow to rougher trails.
We found colourful spring flowers like this Red Columbine.
Next we went up Powell Main. Both roads are named for the two rivers that feed into the head of Powell Lake. Here's the Powell River before it merges with the Daniels River.
From a lookout, you can see the headwaters of Powell Lake.
We saw four black bears during our ride, but they were too quick to photograph. They are out of their winter dens eating grass while they wait for the berries to ripen.
Thanks for coming along on this quad ride at the head of Powell Lake. We live in an amazing place where you can see and experience amazing backcountry.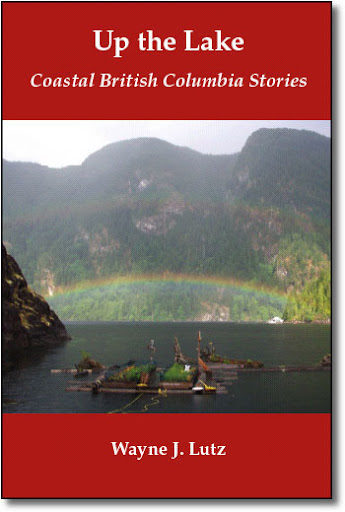 You can read more about Powell Lake and regional adventures in my husband Wayne's
Coastal BC Stories
series of books. They are available locally at Coles or
online in print and e-book formats through Amazon
,
Kobo
, and other retailers. -- Margy